Friday, January 16, 2015
Vault, Switch to Your Law Firm's Tax Group ASAP!:
Many factors contribute to overall satisfaction with a legal job—co-workers, commute time, the jerk level of the boss—but one of the most important factors may be the subject matter associates are required to stare at ALL DAY LONG and the type of work related to that subject matter. Switching practice groups may be the solution to unhappiness in the workplace—whether that is an available option is another question.
According to data collected from Vault's 2014 Law Firm Associate Survey, a survey of nearly 17,000 associates from over 150 large and mid-sized law firms, out of the 20 practice areas surveyed, tax lawyers are the most satisfied with their jobs.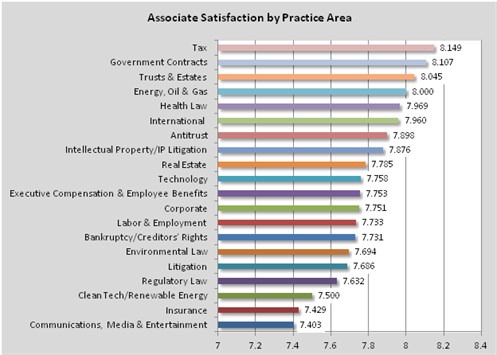 Tax law may be satisfying work because it is often described as solving a puzzle, allowing lawyers to find creative solutions to their clients' problems. One Skadden associated noted, "We get to do incredibly interesting work in tax, and I think I am always learning new things."
Because of the ever-changing landscape of tax regulation, those solutions are often implemented swiftly, so it may be easier for tax attorneys to see the fruits of their labor than for attorneys in other practice groups.  The work flow in tax groups may also be steadier than practice groups like litigation, ranking in the bottom for satisfaction, where associates hours are notoriously irregular and filing deadlines can lead to sleepless nights and weekends at the office. Additionally, tax lawyers may find satisfaction through pro bono work by helping new businesses and non-profits with their tax issues. Tax associates seem to know that have it good commenting, "the tax department generally has a better morale level than other departments."
(Hat Tip: Francine Lipman.)
https://taxprof.typepad.com/taxprof_blog/2015/01/who-are-the-happiest-law-firm-associates-.html