Friday, December 27, 2013
Los Angeles Times:  Hollywood's New Financiers Make Deals With State Tax Credits:
Ric Reitz makes movies. He helped bankroll the Matt Damon thriller "Contagion," Clint Eastwood's "Trouble With the Curve" and the Robert Downey comedy "Due Date." ...
Reitz is one of Hollywood's new financiers. Just about every major movie filmed on location gets a tax incentive, and Reitz is part of an expanding web of brokers, tax attorneys, financial planners and consultants who help filmmakers exploit the patchwork of state programs to attract film and TV production.
In his case, he takes the tax credits given to Hollywood studios for location filming and sells them to wealthy Georgians looking to shave their tax bills — doctors, pro athletes, seafood suppliers, beer distributors and the like. ...
The trade benefits both sides. The studios get their money more quickly than if they had to wait for a tax refund from the state, and the buyers get a certificate that enables them to cut their state tax bills as much 15%.
About $1.5 billion in film-related tax breaks, rebates and grants were paid out or approved by nearly 40 states last year, according to Times research. That's up from $2 million a decade ago, when just five states offered incentives, according to the nonprofit Tax Foundation.
Film tax credits have become so integral to the filmmaking process that they often determine not only where but if a movie gets made. Studios factor them into film budgets, and producers use the promise of credits to secure bank loans or private investment capital to hire crews and build sets. ...
The credits and incentives can cover nearly one-third of production costs. In 14 states, there is an added benefit: They can be sold, typically enabling the filmmakers to get their money months sooner than if they had to wait for refunds. States that permit the sale of tax credits, including Georgia and Louisiana, are now among the most popular for location shooting.
As more states provide more and bigger incentives, film production has shifted away from California to New York and many other states. States approved or handed out $1.5 billion in tax credits and film incentives in 2012, with New York leading the way. Thirteen states allow the sale or transfer of tax credits, which Nevada will also offer starting Jan. 1.
Note: Oklahoma, West Virginia , Washington, Rhode Island, Colorado, Montana, Wisconsin, Kentucky, Wyoming, Missouri, Maine and Minnesota each distributed $5 million or less in incentives. West Virgina, Rhode Island and Missouri offer transferable credits.
       States That Allow Sale of Tax Credits: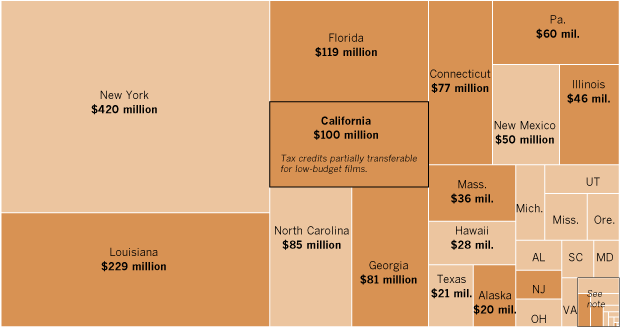 Not everyone is such a fan. Hollywood's trade workers — the electricians, carpenters, caterers and others who work behind the scenes — have long complained that they've lost their livelihood as states vie for film business with ever-richer incentives. The number of top-grossing films shot in California has plummeted 60% in the last 15 years, according to a Times review of public records, industry reports and box-office tracking data. ...
A snapshot of two years, 1997 and 2012, illustrates the diminishing role California plays in the production of feature films. Incentives help drive the film industries in other states as well as around the world. Here are the U.S. states, Canadian provinces and countries where the top 100 films at the box office released that year were entirely or partially filmed.
Locations For Top 100 Films (1997):


Locations For Top 100 Films (2012):

Some economists question whether these programs create long-term benefits to the local communities they are supposed to help. The sale of tax credits, meanwhile, has triggered criticism that companies and people with no connection to the film industry are benefiting from film credits.
https://taxprof.typepad.com/taxprof_blog/2013/12/la-times-.html